Tuesday, May 30, 2006
►Life in a SlamBook
"My Name.My Life.My Wish"
My name: Ria Cua
childhood ambition: To become a Star
fondest memory: learning to enjoy your P100.00
soundtrack: a cozy jazz, samba and trip hop
retreat: by the beach
wildest dream: owning a beach
proudest moment: when I had a blessed birthing experience
bigest challenge: the words LIFE and PARENTING
alarm clock: Moojy's voice and Shug's phone
perfect day: barefoot on the sand in the a.m and stargazing during the p.m
first job: Citiphone Banker
indulgence: going mad over having a vacation and nature trips
last purchase: Moojy's diapers and some essentials
favorite movie: Spanglish
inspiration: Pooj n Moojy
My Life: It's all about taking the journey and not making any sweat bout it.
My Wish: To share something to the World
/12:57 PM
Friday, May 26, 2006
►eeesbeenawyl!
"I'm a Drug Addict"
Hello there! It's been a while, I know. So, update... updates anyone? Pfft.....
So I did got a hair color plus a reborn treatment. Yayks! Didn't know that would cost me a lot. . .Anyway, it's ok to pamper one's self once in a whille . Agree? Oh yes, Mum's in Nevada we had a simple dinner at the Mall Of Asia. The dinner was ok but the best part was that we were complete. The next day after mum left was the start of an exruciating journey to the dentist. Shugs went with me to support, since I was frightened about this for a week now then it came to happen. I had to let go of my wisdom tooth. Thank God for the invention of anesthesia without that drug, I would be dead. Have you ever felt half of your face numb? Well, I did! The whole bloody and painful procedure lasted for an hour. Honestly, It was more painful than giving birth. I was so blessed that it came all easy for me... the whole birth giving procedure. Ahhfter the sucessful surgery, the pleasure and pain begins not until the whole amout of drug injected to me lost its purpose. But the good thing though about having a tooth surgery is that you can have an Ice Cream all you want, Slurpee crazy, Soup Addiction and another whole bunch of drug intake. Wahaha! Just a little feeling deprived about eating Pizza, Tacos, Pasta and Liempo. Huhu! Nuff said!....
/5:00 PM
Friday, May 19, 2006
►Supwise!
"Ang Weird ni Mommy"
Bakit ang Weird ni Mommy today?
Weird kasi when I reached home I brought Moojy along with me for a drive. It was so spontaneous that we ended up going to the church. The church was the last thing I would think to visit on a normal day. But I found myself there with my little prince. As we entered, Moojy felt at home. He was pretty amazed and curious on the display of the church.Was proud of moojy when I saw him do the sign of the cross.

After that i thought of visiting an old good fella from the Village.I though she'd get surprised...turned out it was me who got the big eyes . Gotcha! Was really surprised seeing her with a 4 mos old baby on her tummy. Gawd I'm really happy for her.
After dinner, got my bag and moojy saw my bag of goodies. His eyes grew large and bugged me for the them. I told him he can't eat candy anymore sincehe just brushed his teeth.... He was grabbing it from my hands until I got another surprise. He shouted "Nge". And I just embraced him for what he said.

The word for today. ... Surprised.


/2:22 PM
Wednesday, May 17, 2006
►Something Ordinary
"A Dosage of Mystical Moments on an Ordinary Day"
When going home from work on the dot is possible.
When seeing your little prince give you a kiss and hug from a day's hardwork. Then seeing your hubby blast some lovin goodness as quality time.
When hearing your little prince copy the sound of words from his favorite dvd( Is it Moojy's or dada's fave?..hmmph..)
Sound of words such as:
"map"
"backpack"
and hearing clearer words such as:
"mama"
"amah"
"dada"
"wowo"
"wowa"
and the nonstop "mamam" when he's thirsty
When rain is cool and cozy.
When dinner is served by Mother.
When you can enjoy smoketime with hubby and then shop after dinnerto lose everything you ate, then eat again to regain enery before sleeping the day out.
When you can watch tv and not the one to turn on the light. . hehe...
When you can kiss your boys goodnight so meaningful and sweet.
/12:02 PM
Sunday, May 14, 2006
►Mothers are the Best
"One Sunday"
It was a drizzling sunday morning when we tried walking to the Church for Lia's Christening when suddenly the heavy rain fell. So shugs, Moojy and I hurriedly went back to the house. We were clueless on how we're going to the reception since there was no car available. Anyway, good thing there were some friends who hitched us to the reception. And everything went fine and cool. Pheeew!
To my newest Inaanak: Welcome to the world of beautifulthings and laughter. I'm Looking forward for more blessings and grace.You're lucky to have your parents. Keep on smiling and grow wonderfully.
The rest of the day was spent by watching endless dvds and channels. Had another good time with my lovely boys.
To my Mom: I love you and Happy Mother's Day. Thanks for bringing out the best in this World. For being unselfish and unconditional. I would be filling up the whole space of this page
if I would write all the things that I'm thanking you for. In one word... Super ka! I love you.
/4:42 PM
Thursday, May 11, 2006
►Chicken-Moojy Little
"I was watching Chicken Little while ending up watching My Moojy Little"
The whole fam watched Chicken Little after eating a delicious dinner. We were so excited as this scenario should test if we could tag moojy little along with us in the Movie house. So after Dada turned off the lights and only the screen was playing everyone were quiet. Silently wishing that Moojywould just stay put in place and watch peacefully. The part where Moojy kept on standing and pointing that he wanted to chill on his crib was fine.Though Dada and I were still waiting for something to happen. We were expecting that he would play around as usual. But to our surprise, he just watched quietly. I got him from his crib and put him between us. I looked at him and he was perfect. He was watching and then just went to sleep.
/5:25 PM
Tuesday, May 09, 2006
►The Wonders of Galera by Night
"The Wonders of Galera by Night"
Sighting to see the view of the beach by night is fantastic.Lazing on the cold sand while stealing stars is captivating.These are just some of the free wonders of the world that I truly appreciate and enjoy.Thank God for all of these. Bliss!
/2:03 PM
Wednesday, May 03, 2006
►Fat Summer
"Summer Fats"
Every Summer I Prefer To Smoke Menthol. Ang init kasi eh!? Ang labo!
I'm one of the million mothers who is complaining about their huge tummies.Besides drinking coffee, some few cups of sodas, bags of chips, bars of chocolate and countable cups of rice during meals. . . I can't think of any reason why am I having a big tummy. I wonder? So the deal with myself is to lose that.I decided to keep this goal for a month, just enough timeframe for a working mom like me whose time constraint due to workload. Excited about this whole thing.
I started yesterday with swimming but ate huge after. Not bad for a start. (duh!) June 3 is a big date for me to see if my goal worked or not. Gooduck to meeeh!
/12:06 PM
Tuesday, May 02, 2006
►Awww...Parenting
"Aww Parenting is such a wonderful thang"
Parenting is a complicated thang but no wonder why mums and dads are toply fulfilled.
In his Grandma's room he stood there with his neck raised and tilted up to see the clock with pendulum . He stood there for a couple of minutes.just standing and wondering. You should see my LittlePrince watch every little thing so serious and full of curiousity. I thought the story would end there.But after a few minutes he was moving half of his body fom left to right.Swaying like the clock moving from end to end while ticking. And Grandma was so happy talking about the story to me. Then as we were talking about moojy he did exactly the thing again, over and over again. Cuteness!
/4:47 PM
Monday, May 01, 2006
►Pretty Interesting Labor Day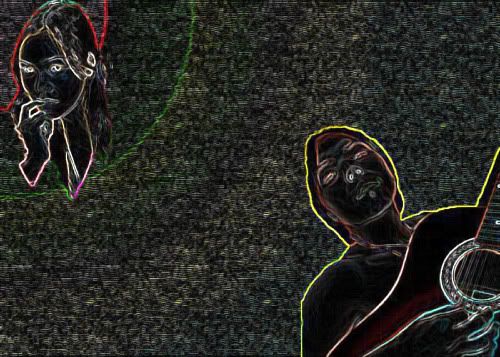 "Labor of Love"
Im taking back some steps from the pretty safe life I have right now.Looking back some steps behind I've realized life's too short too live but too fast for daily life. So I make and choose how I wanted them to be in order. I've been existing for quite some time and then I met him once again. Then there was this cosmic chemistry formed between us. Then everything went into a snap that changed both our lives. We got married and had our little prince. That was the best part of my existence. We resolved every bit of problem there is. We both cried and cheered to whatever came to us. We were unprepared but learned how to fight fo what is right.
So here we are on our 2nd year Anniversary.Kicking ang living in the anonymity of life.
Today was special but we didn't plan for something outrageous. Just ate at Fridays (where we had our first dinner when we were still dating) and watched Silent Hill at greenbelt. After that did a little pasalubong shopping for Moojy. Awesome!
Ciao! Peace and Love in the Cosmic World.
/5:37 PM