Wednesday, April 26, 2006
►Keep on Rowk-ing!
"Keep on Rocking. . .Keep on Rowing"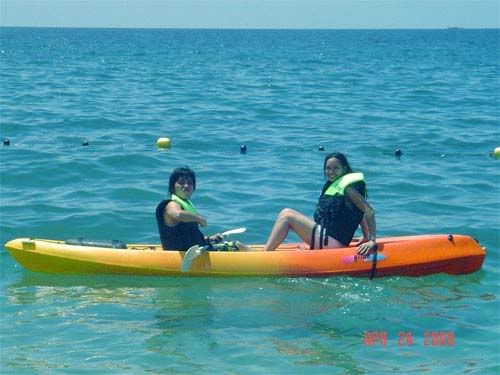 A morning after breakfast beyond the perfect aqua sky and stealing the most happiest hour of the day.We went kayaking and the smooth operator was Pooj. It's his first time to try this...Actually our first time. We kayaked all the way to the most distant part of the water that we can ever reach. And searched for all the jellyfish that we could capture while shugs hit them up with the paddle cursing and shouting because they got me stung in Galera. Hehe!
Ikaw ang sagwan at gabay ng aking buhay. Salamat, Mahal.
/10:29 AM
Tuesday, April 25, 2006
►See what there is to Sea
"See what there is to Sea"
Right after the heavy clouds from my head disappeared, I wondered where we were. I glanced beside me and saw a fully decorated jeepney( the ones where colorful flags are displayed with a tatak pinoy print on it) . Anyway, at the back of it, I saw " Bungon's Family" then at the side it says, " To Lipa Batangas". I smiled because finally we're near.
Ok we were down to the 2nd j and just when I though i needed to change the position of my legs. Everything went numb. That numbness felt good. Couldn't be explained. The numbness of mind and body was helpful in all sense.
So we arrived at the most perfect time. It was overwhelming.
It was a trip to numbness. I'm in a deprived state to the world outside. Free to feel what is there to feel. From numbness it became freedom.
/2:21 PM